What is EPM?
Software for budgeting, forecasting and financial management is called enterprise performance management (EPM). It provides data analysis, reporting, and forecast modeling to evaluate, understand, and strategically plan businesses.
Organizations can use EPM software to coordinate business strategy and execution. The technology leverages feedback derived from information generated by enterprise systems, processes and operations. The analysis that results from identifying business drivers and other information enables companies to better evaluate new prospects, increase the profitability of existing businesses, and respond more flexibly to unforeseen changes and disruptions.
Enterprise performance management software helps drive decision-making, promotes efficiency, and enhances the financial and operational performance of the business.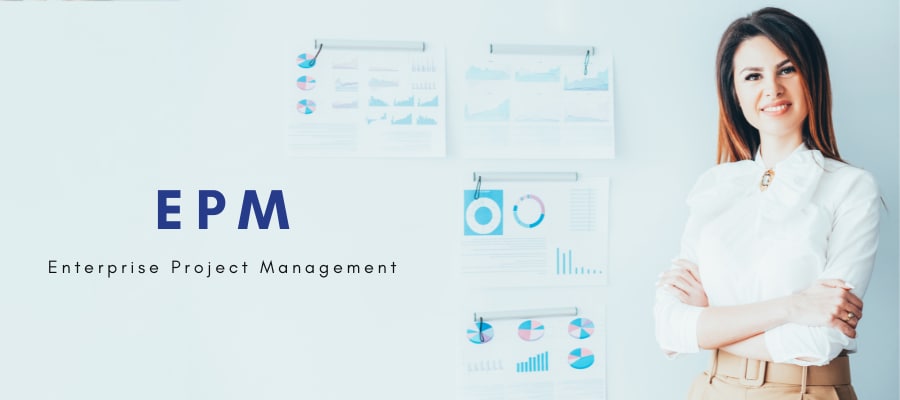 What are the core components of EPM?
Enterprise performance management solutions were initially set up on-premises, like most traditional software. Now, more and more EPM software programs are being run in the cloud. A cloud platform offers a number of benefits, including increased storage capacity, improved security and easier interaction with complementary applications such as planning, tax reporting, profitability and cost analysis, account reconciliation and other applications.
The normal flow of the EPM process is as follows:
Access information from all business units. Access financial and operational data from all areas of the business, including IT, marketing, HR, operations and sales, by leveraging the flexibility of the cloud. E-commerce platforms, front and back office software, data warehouses, and external data sources are all possible data sources. Use comprehensive, accurate data to make decisions with greater confidence and respond more quickly to disruptions.
Plan strategically. Build predictive models and ad hoc simulations across multiple dimensions using EPM data analytics. Make data-driven decisions to improve performance, profitability, and strategic plan alignment.
Develop flexible budgets by collaborating and soliciting proposals across the enterprise. Use automated processes to ensure an orderly and effective process.
Monitor and report. Use real-time data to assess performance across the organization and determine if improvements are needed. Create reports that meet business and regulatory guidelines.
Analyze and evaluate. Compare profitability and performance against strategic direction. Find new opportunities, address areas of underperformance, and use findings to guide the next cycle.
Advantages of the EPM system
The following are some of the key benefits of an EPM system:
To effectively predict future profitability in a variety of business cases and situations, one must carefully examine current profit margins. EPM technology can help increase margins, maximize revenue, and find new opportunities to improve performance and profitability.
Strategic business integration: to get a comprehensive picture of past, present and future performance, data from all business units must be combined. EPM provides insights based on real-time data, allowing companies to review different options and decide on the most beneficial and effective course of action.
Today's automated financial processes: silos in planning workflows, time-consuming spreadsheets and human error must be eliminated. To get a complete picture of the business, EPM links processes and data from many parts of the organization.
Regulatory Oversight: Ensure compliance with the ever-evolving requirements of tax law and regulations for tax reporting, corporate financial reporting, and financial statements. EPM eliminates the need for numerous reporting systems and speeds cycle times by supporting a variety of reporting standards with accurate and up-to-date data.
Faster account reconciliation: eliminate financial close procrastination. EPM provides automated processes that reduce risk and speed secure global account reconciliation.